Virtual hybrid event using our virtual studio
Vogelsänger Studios Digital Event
Presenting possibilities of virtual events
Format: Live presentation in a virtual studio
Place: Vogelsänger Studios, Neufahrn near München
Date: July 7, 2020
Dauer: 90 minutes
Published:
http://www.vogelsaenger.de/digital-event
Particular challenges
| TASK | SOLUTION |
| --- | --- |
| Virtual studio set including several camera perspectives | Create a virtual studio including a green screen |
| Two different online conferencing systems. One group of participants is using Google Meet, another group is using Zoom | Integrate both systems in one video mixer. Feeding sound inputs to all external participants and to the studio. |
| Viewers of the stream can ask questions using the chat function | Livestreaming in Video.Taxi, using its built-in chat function |
A virtual studio allows you to enhance the quality of your production site with little effort. In addition, quality control is easier in a studio than at a site that first needs to be converted into a studio. The one requirement for a green-screen set is a sufficiently large space in which a team can freely interact and multiple camera angles can be applied at any time.
The location:
Vogelsänger Studios in Neufahrn near München
Some departments join the event live, partly using individual virtual backdrops.
The live keynotes include free speaking, presentations and animated 3D-views, for example showing pieces of furniture.
All participants can be seen by the host, the production team and viewers of the stream.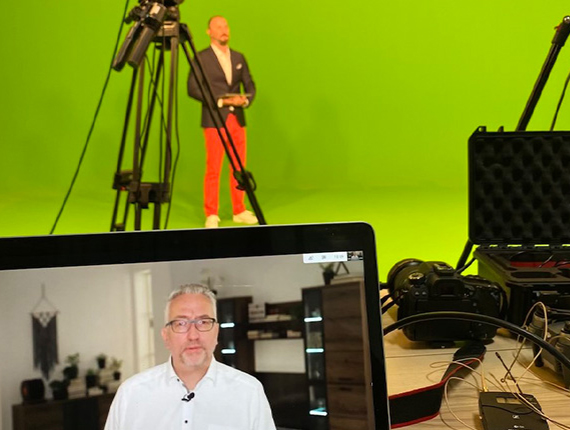 The CEO of Vogelsänger Studios, Cord Vogelsänger, greeting all viewers.
Using a bright, friendly room that reminds of a loft as backdrop adds quality to the broadcast.
Participants who joined online can be seen on the large in-studio screen.
Viewers can participate via chat.
At the same time, viewers are asked to participate in an opinion poll, the results of which are then displayed live.
The principle of chroma-keying: Here you can see the host in-studio, the green colour of the backdrop is filtered out and replaced by graphics.
The host is standing in front of the green screen – the virtual studio set has not been added to the image yet.
Would you like to receive our support?
We offer
We would be happy to advise you on your next project. From a short telephone consultation to a 1-day workshop, we offer all levels of intensity of know-how transfer. Simply choose the date that suits you best.
Real-time support of your live event
One-day workshop at your premises