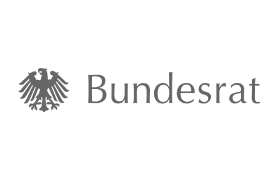 Who are we?
Welcome to TV1
Since 1999 we have been one of the leading providers of streaming services in Germany. Our 40 employees ensure that utmost quality is maintained during the implementation process of every one of our projects. We produce virtual events and operate streaming applications that run permanently for organizations in German-speaking countries.
Complex technical processes are handled smoothly in the background. Every one of our customers benefits from maximum picture quality and state of the art features such as AI-based subtitling, live chat, pay per view, password control and many more. We are ISO/IEC 27001 certified.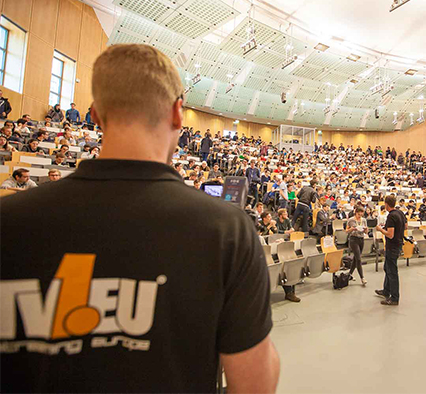 What do we do?
Our longterm projects
Bundestag
Since 2012, TV1 has been broadcasting parliamentary debates live from the plenum of German Bundestag. Every single speech is cut and made accessible in the Bundestag media library. Since 2018, TV1 has also been creating subtitles and sign language translations in real time in a separate stream. Starting in 2021, all contents streamed live by Bundestag are subtitled. Employing artificial intelligence and speech-to-text interpreters allows us to create subtitles for roughly 1000 hours of video material every year.
YouTV
YouTV is an online TV recorder that allows you to record more than 50 TV channels. Sophisticated recording assistants help our users decide which shows to record. YouTV assists users with program selection, removes commercials on demand, and is available in thirteen apps for all major devices.
Video.Taxi
Video.Taxi is a revolutionary platform for everyone who wants to carry out online events, meetings and video publishing in a quick and easy way. Numerous functions help users to considerably enhance their contents. Using Video.Taxi allows you to produce elaborate livestreams directly on the computer, to get live subtitling and to sell livestreams and videos.
About us
In 1997 the founders of TV1 started their first stream, since 1999 we have been one of the leading providers of online video solutions.
CEO
Michael Westphal
Founder & Executive director, MBA
Michael oversees the business development and sales departments at TV1. As a streaming-technology evangelist with 24 years of experience, he is apt at both speaking in front of a camera as well as handling one. In his free time, Michael loves to cycle and play ice hockey.
COO
Karsten Milde
Executive director, lawyer (Dipl.-Jurist)
Karsten oversees the general management and information security management departments at TV1. He has more than 20 years of experience in operative and strategic management positions and is an expert in rendering livestreams accessible to all. In his free time, Karsten loves to engage in endurance sports.
Karsten
Managing Director
Thomas
Head of Production
Want to know more?
Get in touch
Please fill in the contact form on the right or, even better, make an appointment for a noncommittal consultation.
Beta-Str. 9a, 85774 Unterföhring