Pioneers in streaming media. Innovators.
Welcome to TV1
Production, encoding, recording and broadcasting – we offer professional support for selected steps of your online video project or during the entire process.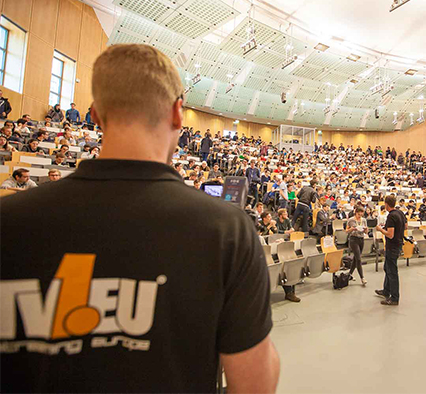 4489
projects realized
succesfully
21
years
in practice
Projects
Streaming productions
Live webcasts
Online Video Analytics
About us
In 1997, the founders launched their first stream and since 1999 TV1.EU has been one of the leading providers of online video solutions. We help our clients be successful with online videos and live webcasts.
Mission
TV1.EU assists companies and organisations by broadcasting video content and live signals at superior quality to all devices. Our core competencies lie in helping clients explore the full potential of their livestreams and videos using state-of-the-art technology.
Profile
In 1999, TV1.DE became the first German internet broadcaster. After the dotcom bubble burst, TV1 changed its business model and has since been a B2B provider.
With more than 21 years of expertise and over 4,500 live productions/streaming media projects, TV1.EU is one of the most experienced providers on the market.
As a full-service provider, our company portfolio includes:
– Live webcasts
– Online conferences
– Streaming (encoding, transcoding, CDN)
– Live subtitling, translation
If you are looking for individual solutions tailored to your specific requirements, we are your ideal partner.
Innovation
TV1.EU is an innovation leader in the industry. We have developed our innovative solutions independently based on years of project experience and have successfully implemented them in close cooperation with our clients. Our technologies are state-of-the-art and our solutions are tailored to our clients' individual requirements. We guarantee constant development in the future and use of the latest technologies.
Would you like to receive our support?
We offer
Real-time support of your live event
One-day workshop at your premises